Out of Eden Walk
Written by Ecologise, 12th May 2018,
Comments Off
---
Event Start Date:
18th May 2018
Event End Date:
18th May 2018
Event Venue:
Delhi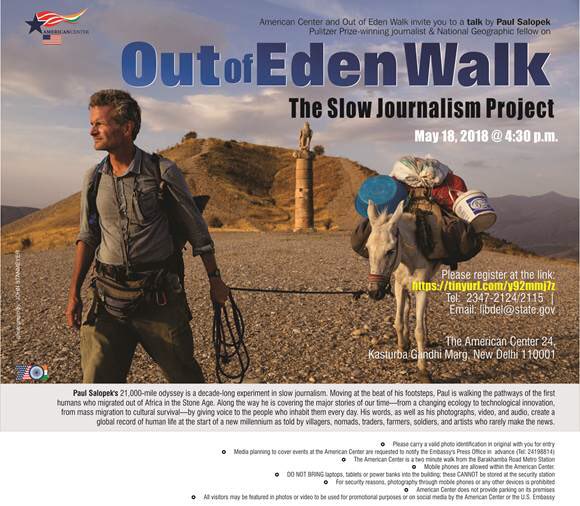 Date: May 18, 2018
Time: 4:30 p.m.
Venue: American Center, 24, Kasturba Gandhi Marg, New Delhi
. Please carry valid photo identification in original with you for entry.
• Media planning to cover events at the American Center are requested to notify the Embassy's Press Office in advance
(Tel: 24198814)
• The American Center is a two minute walk from the Barakhamba Road Metro Station.
• Mobile phones are allowed within the American Center.
• For security reasons, photography through mobile phones or any other devices is prohibited.
Laptops, power banks, Ipads, tablets, flash drives, cameras and other electronic items are not allowed within the
American Center.
• American Center does not provide parking on its premises.
• All visitors may be featured in photos or video to be used for promotional purposes or on social media by the
American Center or the U.S. Embassy.
(Visited 37 times, 1 visits today)